PhysioOne Package
Perfect for a therapist who needs a shiny new website, that ranks high in Google.
Get started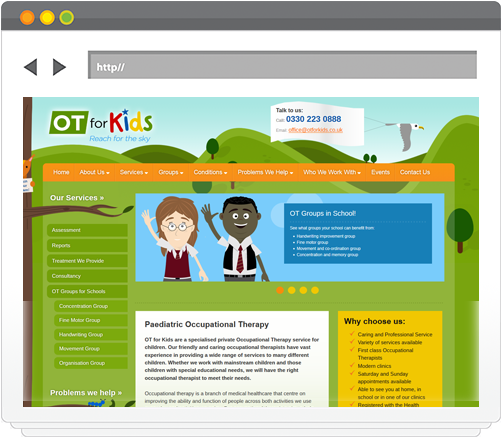 Physio123 will produce for you a large, fully functional, information-packed website, designed specifically to your requirements. The additional pages allow you to give more information to your visitors; news sections, testimonials, services explained, the choice is yours.
Having a large website will mean search engines will rank your site higher and more frequently. This will in turn lead to increased patients. Physio123 will integrate your pages into a professionally looking, easy to navigate website.
The PhysioOne package allows you to create a large interactive individually website that will raise the standard of therapy websites. Physio123 will take into account your objectives throughout the website design and development stage, and will create a website that will exceed your requirements.
The professional feel of a PhysioOne package website will further help to increase patient numbers.

Professional web design
Physio123 design eye-catching, high-impact websites for therapists. This ensures potential patients are assured of the professionalism of the practice, and go on to book an appointment. Our designs deliver results!
No templates
All our websites are as unique as our clients and their requirements. We don't use templates, all our designs are custom coded to your bespoke requirements. We ask you how you want your website to look and feel. If you have a particular colour scheme or layout in mind, tell us, and we make it happen.
Accessibility
Our websites are designed with accessibility in mind. Web accessibility is about making your website accessible to all Internet users. In addition to complying with the law, our accessible designed websites will reap huge benefits for your practice.
Usability
All Physio123 websites are designed to be usable. Physio123 deliver usable websites that work hard for your practice. By incorporating usability into the development of your website design alongside your marketing goals we can create a powerful website to help you achieve your objectives.
High in Google
All the websites Physio123 create are search engine friendly and optimised for therapists to achieve high search engine rankings. By designing a website that is search engine friendly, the search engine will be able to access and read your content easily. This will lead to a high search engine position for your website.
Effective website + High in Google = More new patients
The combination of a professional website and a high search engine position for potential new patients looking for therapy in your area will lead to more business for your practice. Working with Physio123 ensures your website will continue to generate many new patients.