Chiropractors
We design websites for chiropractors!
Are you looking for a new website to generate more business for your practice?
We believe in helping therapists get the most out of their websites. We do this by producing great looking websites that rank highly in search engines and convert visitors into customers. Whether you are a new practice looking for your first website, or an established practice with an existing website we can help.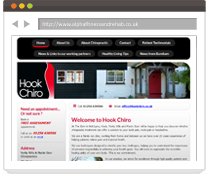 Hook Chiro
Hook Chiro are a family run Chiropractic clinic with over 25 years of experience. They are based at, The Barn in Holt Lane, Hook. They offer free assessments so patients can see if they require treatment or not.
Visit site »
Websites for health professionals